CHESHIRE HIGH SCHOOL BAKERS PLAN CUPCAKE CREATIONS FOR TRIVIA CHALLENGE EVENT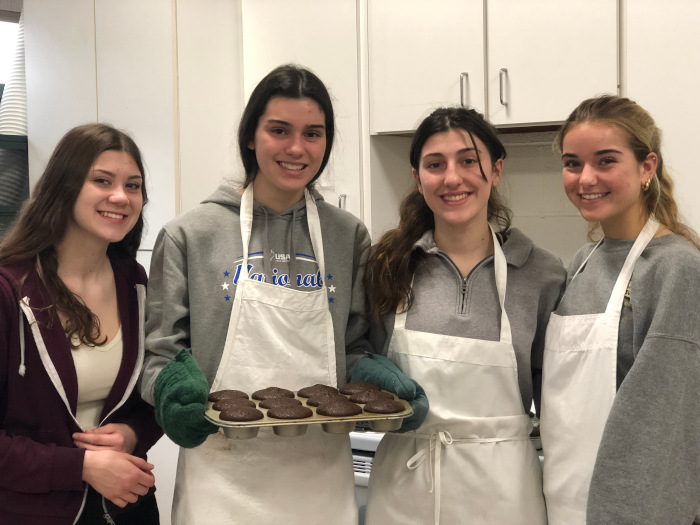 From left to right: Jolene Theriault, Lauren Houle, Olivia Jones, and Izzy Dziura. Photo by Eileen Wildermann.
 
Students in the Food Service class at Cheshire High School are planning to bake a variety of cupcakes to help raise money at the Cheshire Education Foundation's Trivia Challenge on March 26.
The group of junior and senior boys and girls has been testing recipes, and then doing a lot of tasting to find just the right flavors. Among the cupcakes being created are lemon, Oreo, chocolate with strawberry frosting, funfetti, and a few others yet to be revealed.
The best recipes will be baked just in time for the Cheshire Trivia Challenge the evening of Saturday March 26 at the Cheshire Masonic Hall. Teams of four adults are registering for the event, and after each round of questions they are bound to be hungry for an evening treat.
Eileen Wilderrmann from the CHS Career and Technical Education department says the student bakers know that "they may have different tastes than their customers which will factor into the final cupcake menu for the night." The class is dividing into four groups, each of which will bake their own recipe so that there will be four choices on the "cupcake menu."
Anyone interested in joining the fun, and sampling a cupcake or two, can get a team of four adults together and register at: https://www.cheshireeducationfoundation.org/cheshire-trivia-challenge.
Proceeds from the Cheshire Trivia Challenge will be used by the Cheshire Education Foundation to provide funding for projects to enhance the education of public school children from kindergarten through 12th grade.