SECOND ANNUAL CHESHIRE TRIVIA CHALLENGE SCHEDULED FOR MARCH 16th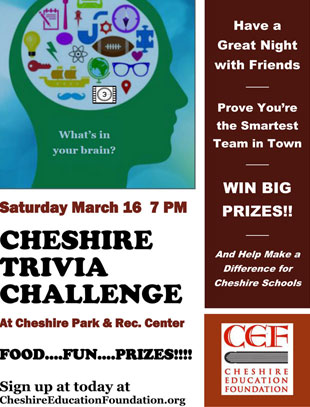 The Cheshire Education Foundation is planning its second "Trivia Challenge" fundraiser Saturday night March 16th at the Parks and Recreation Center on South Main St. Last year's inaugural Cheshire Trivia Challenge helped the foundation raise more than $2,000 to help support programs and scholarships for Cheshire public school students.
Local residents and trivia buffs have already started registering their teams of four by going to the CEF website, CheshireEducationFoundation.org. Teams from local businesses, civic organizations and schools are being invited to enter and prove that they are the "smartest team in town."
"We want to see some good-hearted competition here in Cheshire as winter draws to a close," said CEF board chair Jane Leukart. "And if you have three friends regardless of where they work or live, choose a team name and come join the fun." Teams that have signed up with names like "the Periodic Table Dancers," "Pinky and the Brain," "The Parental Units," and "Rhubarb" are obviously planning for an entertaining evening. The top three teams with the highest scores at the end of the night will win prizes donated by local businesses and one-of-a-kind trophies.
The entrance fee for a team of four is $50 or just $12.50 per person. All the proceeds will go to supporting the enhanced learning opportunities and scholarships that the Cheshire Education Foundation provides every year for students in the Cheshire Public Schools.
The quiz-master for the Cheshire Trivia Challenge will be longtime Cheshire resident Dennis Deninger, who has served on the board of education, the CEF board, and is now a professor at Syracuse University. "We have some great questions that will make you think, laugh and do a little head scratching, plus you get to help the Cheshire schools all at the same time," said Deninger.
Members of the National Honor Society at Cheshire High School have signed up to help stage the event. They will help tabulate the scores and assist the CEF board members administering the contest. Food and drink will be available, and teams can also bring their own food for the evening of friendly competition.
Teams are invited to register online at CheshireEducationFoundation.org. There is more information on the CEF Facebook page at facebook.com/CheshireEducationFoundation.
The Cheshire Education Foundation has been raising private funds to enhance the programs and offerings of the Cheshire Public Schools since 1995.