CHESHIRE EDUCATION FOUNDATION BOARD WELCOMES NEW STUDENT AMBASSADORS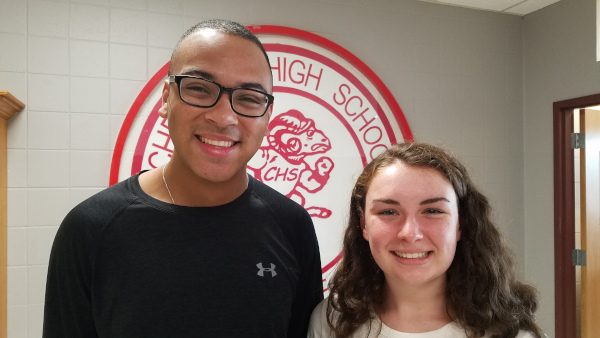 Two Cheshire High School students are joining the board of the Cheshire Education Foundation as ambassadors from the Cheshire public schools. Lucy Helene, a junior and RJ Streater, a senior, will participate in their first CEF board meeting in October. Lucy and RJ will help connect the charitable foundation board with the student population in Cheshire Public Schools.
Lucy Helene is the daughter of Karen and William Helene of Cheshire. She is on the CHS swim and dive team and competes as well as part of the Meriden Silver Fins swim club. Lucy has also served as student representative to the Cheshire Public Schools Personalized Learning Task Force. She says she has begun her survey of potential colleges to attend after her graduation in June of 2021.
RJ Streater is the son of Judith and Reginald Streater. He is applying for admission to colleges for the fall of 2020, where he plans to begin a pre-med course of study. RJ also represents his fellow Cheshire students as one of two CHS representatives to the Board of Education. Outside of his academic and civic pursuits he plays bass drum in the CHS marching band.
Cheshire High School Principal Dr. Mary Gadd said, "RJ and Lucy are two impressive young people who represent the enthusiastic, positive energy you find in our schools." The two will attend the monthly meetings and provide their insight as to which proposals that come before the CEF board would have the greatest impact on students at the elementary, middle school or high school level. In the spring they will also assist at the annual Cheshire Trivia Challenge, which is a fund raising event for CEF.
CEF board chair Jane Leukart welcomed RJ and Lucy, saying, "We are excited to have two outstanding representatives as our new student ambassadors." In each of the past two years a single student from Cheshire High School has served as ambassador to the education foundation. Superintendent Jeff Solan said, "I think it makes a lot of sense to have two student ambassadors to establish better continuity." Each year going forward, a new 11th grader will join the board to work with the rising senior who already has experience in the ambassador role.