CHESHIRE EDUCATION FOUNDATION BOARD WELCOMES TWO NEW STUDENT AMBASSADORS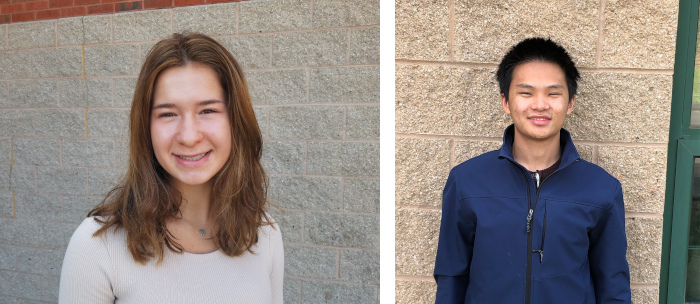 Two Cheshire High School seniors have joined the Cheshire Education Foundation board of directors as this year's student ambassadors. They are Nadia Bauco and Vincent Cai.
"We are excited to announce our newest student ambassadors," said CEF board president Derek Gromko. "These CHS students will have the opportunity to learn and experience how nonprofit organizations operate as they participate in every area of our operations. Our board values the ambassadors' input and perspective on how the enhanced learning initiatives funded by the Cheshire Education Foundation impact their peers."
Nadia Bauco is the daughter of Deirdre and Sergio Bauco. She is a member of the National Honor Society, serving as clerk officer, and she is in Club DECA which takes part in integrated marketing competitions with other high schools. Nadia is also on the Link Crew, assisting with freshman orientation at Cheshire High, and she does social media for the Cheshire Food Pantry Club.
Vincent Cai is the son of Hong Li and Chunlin Cai. He is president of the CHS Math League which competes statewide. Vincent is a member of the National Science Honor Society, he volunteers at the Cheshire Public Library, and has been a member of the CHS swim team for four years.
"Cheshire High School is a great place for educational opportunities," said Vincent. "It's very special that Nadia and I will be able to help the education foundation decide how to allocate its resources across all of the Cheshire Public Schools."
Both Nadia Bauco and Vincent Cai attend the monthly CEF board meetings, and they are currently applying to colleges for enrollment in the fall of 2022.